PLEASE REVIEW THE BACD EVENT POLICY PRIOR TO REGISTERING. Click to read:
BACD Event Policy
Click Bait! How to Write Irresistible Newsletter Content
Thursday
October 3
5:00PM - 7:00PM
Event Navigation
Email newsletters have acquired a reputation for being dry, but they don't have to be! Looking for some fresh and fun ideas to capture the attention of your audience? Join us for an engaging session on how to create content that your clients can't wait to read and share. We'll also share secrets to motivating your readers to take action and buy your product or service. 

About the Presenter: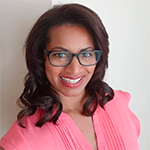 As a Communications Specialist and the founder of Kismet Digital, Antoinette helps entrepreneurs to grow their business by writing engaging newsletter content and providing customized communications strategies.
She is a Certified Corporate Communications Specialist and Adult Educator with more than 15 years of experience as a Technology Instructor and Corporate Trainer for professional services.