PLEASE REVIEW THE BACD EVENT POLICY PRIOR TO REGISTERING. Click to read:
BACD Event Policy
PLEASE NOTE: All BACD events/workshops will be held virtually until until further notice.
A Zoom link will be included in the event information, so you can join at the scheduled time.
Digital Mindset Program: Customer Segmentation & Value Proposition
Tuesday
June 9
9:30AM - 12:00PM
Free
Part 2: Customer Segmentation and Value Proposition
Business owners will identify their common customer profiles. Using Value Proposition Canvas, understand the pains (relieved) and gains (created). Calculate the high-level LTV for each customer profile.
How will this work: We will identify a customer segment that is common to all the participating businesses. This will help us to do some research on the target customer profile for the presentation.
Outcome: Each business will get a complete overview of the problems they solve for the customer and gains they create. Also, LTV will help them to understand the value of the customer for their business, which will help in determining the marketing budget for that customer segment.
Digital Mindset Program provides business decision makers with simple but highly effective tools to build their online business models. The program helps to learn the possible risks associated with the generating the customer-base, provides tools to quickly analyze the problems and design solutions, and set up key objectives and results to measure the success.
About The Presenter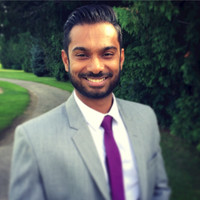 Ameya is a business strategist with a keen interest to help small and local businesses to build a strong digital strategy. He is the founder of ScaleUp42, a digital media and tech strategy firm whose vision is to support the digital growth of small and mid sized businesses. Prior to that, Ameya worked with TorStar/Metroland Media. For five years, he was in-charge of digital media products and distribution business across multiple CMAs in Ontario. He has a robust understanding of hyper-local business dynamics and digital media business development.