PLEASE REVIEW THE BACD EVENT POLICY PRIOR TO REGISTERING. Click to read:
BACD Event Policy
PLEASE NOTE: All BACD events/workshops will be held virtually until until further notice.
A Zoom link will be included in the event information, so you can join at the scheduled time.
Digital Mindset Program: Digital Presence Workshop and Lightening Demos
Tuesday
June 16
9:30AM - 12:00PM
Free
Event Navigation
Part 3: Digital Presence Workshop and Lightening Demos
Business owners will provide an overview of their web presence. identify the opportunities to leverage their website and presence on other platforms (social, search and other marketplaces) to optimize their communication with desired audience.
How will this work: 50% classroom style presentation of how websites and digital media presence has helped companies to drive customer acquisition costs down, increase engagement and increase recurring sales. 50% researching and finding different kinds of products or services they would like to use as tools on their websites.
Digital Mindset Program provides business decision makers with simple but highly effective tools to build their online business models. The program helps to learn the possible risks associated with generating the customer-base, provides tools to quickly analyze the problems and design solutions, and set up key objectives and results to measure the success.
About The Presenter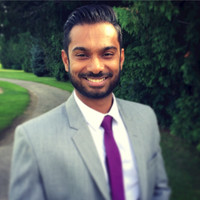 Ameya is a business strategist with a keen interest to help small and local businesses to build a strong digital strategy. He is the founder of ScaleUp42, a digital media and tech strategy firm whose vision is to support the digital growth of small and mid sized businesses. Prior to that, Ameya worked with TorStar/Metroland Media. For five years, he was in-charge of digital media products and distribution business across multiple CMAs in Ontario. He has a robust understanding of hyper-local business dynamics and digital media business development.