Using MailChimp to Set up Your Mailing List and Convert Followers into Buyers
April 11 @ 9:30 am

-

11:30 am
Participants will learn how to set up a mailing list with their current contacts and how to find new ones. We will also cover the basic principles of setting up a campaign. Reference guides will be provided.
By the end of this course participants will have essential knowledge needed to create a mailing list, design an email campaign or newsletter and distribute and track its engagement. Special emphasis will be placed on developing engaging content.
About the Presenter: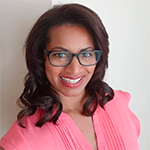 Antoinette Burrell, specializes in Corporate Training & Communications. She is a Certified Adult Educator and a talented writer with expertise in both internal and external communications and strategy.
She helps clients to understand technology in simple terms and leverage this knowledge to promote their business through social media. With her expertise, she will guide clients through the process of creating an engaging social media presence and provide content for their social media platforms. She is also a speaker and trainer to entrepreneurs who want to improve their own content creation skills.