Think Big, Bold and Fearlessly for this She Means Business Event!
Our She Means Business event for 2021 has the theme of Think Big, Bold and Fearlessly.  We open with a keynote from Anu Bidani, CEO of STEM Minds, a B Corp certified social enterprise that empowers youth through STEM education.
Anu has a 20 year career with Scotibank however, something was lacking for her and there was an unsolved problem for her.  Her son was having challenges with building new skills at school and the extracurricular programs were not giving the outcomes she was expecting.  This inspired her to use her background and experience in computer science and technology at the bank to solve this challenge.
STEM Minds started in 2016 with tech education programs to help students in learning about STEM (science, technology, engineering and math) skills and knowledge.  There was a gap in the market that Anu was able to take advantage of and provide something to parents so that their children could build skills that would be needed for the future.
Anu reached out to the Small Business Centre for York Region to learn what she needed to know about starting a business and the rest is history!
STEM Minds started small, renting space from a Montessori school and then in 2017 rented her own space as well as thinking then to build an online platform so that she could impact STEM learning globally.
When talking with Anu a few months ago, I asked her if she has been affected by COVID-19 and while she has, she had already been running virtual classes online.  Her growth has been accelerated beyond Canada because of COVID-19 which she is very grateful for.
She told me that her experience and of other women entrepreneurs is that they think too small.  In order for her to reach the levels of success she is striving for she had to change her thinking and think big, bold and fearlessly.  Every challenge is a growth opportunity.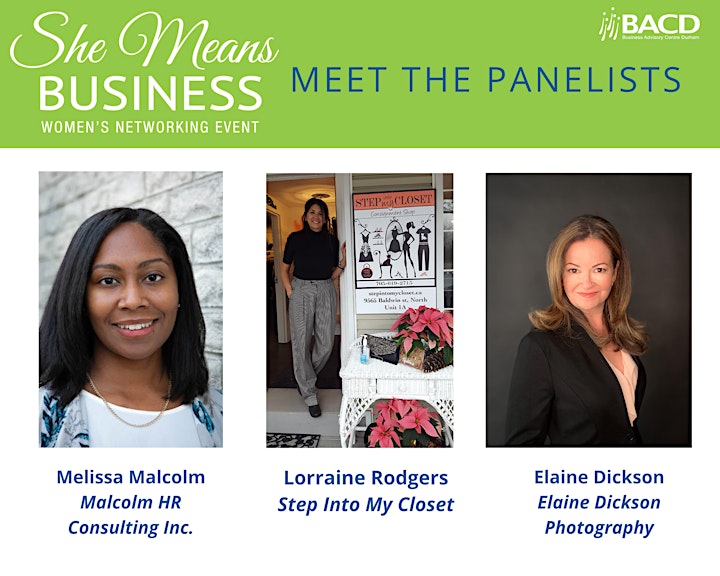 Next we meet our Women Entrepreneur Panel members, Elaine Dickson from Elaine Dickson Photography, Lorraine Rodgers of Step Into my Closet  and Melissa Malcom, of Malcolm HR Consulting Inc.
This event promises to be inspiring as you learn the journeys of these entrepreneurs.  You'll also get an opportunity to Ask for help in your business and offer help to others. This is always very popular with our guests.
One of my favourite quotes is from Keith Ferrazzi – "Everything you do in your life is through people or with people.  The more opportunities you have to share and learn and connect with people the more successful your life, business, relationships, friendships with be"
The Business Advisory Centre Durham Inc has been running these Women Entrepreneurship Events for over 8 years.  It has been a true pleasure to meet these entrepreneurs along the way in their  journey and to hear from them.  There is immense power in these stories, it could be one sentence that changes your life and the direction you take.  I always find something to learn from them.  We hope to see you there!
Written by Teresa Shaver